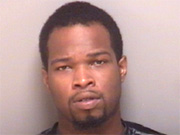 New felony charges have been filed against Damon Watson. He is the man who allegedly embezzled money from the Sexual Assault Resource Agency. In addition to 3 felony embezzlement charges in Charlottesville, 26-year-old Watson is now facing a felony embezzlement charge and a felony credit card fraud charge in Albemarle County.
Watson worked as an administrative assistant for the Sexual Assault Resource Agency for a little over a year. He served as staff support and coordinated events including SARA's 'Walk a Mile in Her Shoes' fundraiser.
Watson was terminated at the end of May after there was suspicion he had been embezzling money. Somewhere between $10,000 and $20,000 is missing.
Walker Thornton of SARA said, "We're saddened, we're extremely disappointed. This was someone we thought was a loyal, trusted co-worker and friend and we're angry. You know this is money we use to do our work."
Watson has a criminal history. He was convicted of failing to appear in court on a charge of writing bad checks in April. He also was convicted of forgery in Michigan back in 2003.
Watson has been released on a $5,000 bond and ordered not to have any contact with SARA.
His mother was in court this morning but declined to comment.