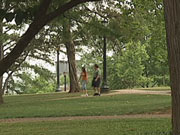 When you think of the University of Virginia Women's Center you probably don't think of projects that target men, but one program is doing just that by putting the "men" in mentors.
The program is called the Men's Leadership Project, and it's designed to help women by helping men. It pairs fifth grade boys with undergraduate men from UVA for a yearlong mentoring program.
The goal is to get the fifth graders to talk about leadership through the lens of masculinity.
Mentors and kids meet every week for most of the school year to discuss all kinds of school issues, from respect to bullying and domestic violence.
The center just won a $5,000 grant from the Bama Works Foundation to help expand the program. Facilitators say it's not just about the men and boys.
"It behooves us to consider and to engage with men in ways that will help them understand what it is about our culture, what it is sort of about cultural notions of masculinity that play into accepted notions--that it's okay to be abusive or violent toward a woman," said Claire Kaplan with the women's center.
Kaplan says by talking with boys early it helps build the right foundation, so that as they grow up, they'll be able to have healthier relationships with women.
Last school year the program had 13 pairs of undergrads and fifth graders. Organizers are shooting for 20 pairs this year, and they're talking about expanding to Albemarle County schools in the future.