Barracks Road's Canopy Controversy
Posted:
Updated: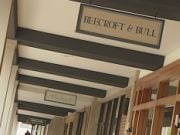 A change to the Barracks Road Shopping Center is upsetting a few customers and business owners.
The plan is to remove a series of canopies located along the shopping center's walkways and replace them with much smaller awnings. But the newer look isn't settling well with customers or merchants who say there's nothing wrong with the current canopies.
Right now, many of those coverings protect customers from wet weather.
"I would not come in the rain," said Carolyn Burkholder, a shopper.
And that's what worries Steve Metz, who owns the Lynne Goldman Studio.
"When it's raining or it's hot, we get business when the downtown or other shopping centers do not," said Metz.
Metz adds if the protection is no longer there, customers won't want to visit other stores at the shopping center. Many customers agree.
"That would be a big mistake," said Don Dotson, a shopper.
The city approved the design changes last fall, so construction can start at any time. But there's growing frustration from people like Metz who say the owners of the center aren't listening.
"They're being very stubborn about this. They're not interested in my opinion, the opinion of the other merchants," said Metz.
Our repeated calls to Federal Realty Investment Trust, the management company, went unreturned. There's a meeting Tuesday to announce the details of construction to business owners.