Albemarle Supervisors Set for 2008 Work
Posted:
Updated: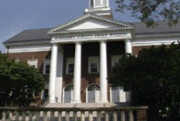 The Albemarle County Board of Supervisors is ready to get to work. Tuesday was the first meeting for the newly elected board. Ann Mallek is the only new member of the board of supervisors but her ideas may change decisions the board makes.
There's one big issue in Albemarle County. According to Mallek, "People are concerned about the pace of development and how we are planning for it and how we are paying for it."
The development issue in 2007 was Biscuit Run. This year, expansions are planned at Hollymeade and commercial development is in the works at Avon and 5th streets.
Mallek was elected as a slow-growth candidate. Mallek explained, "Some of us may be more protective of natural resources, stream buffers, things like that and some of us may have more perspective from business, but we are all intending to work very well together to make sure we implement the rules."
Now, her approach may get some unexpected help.
"The market is kind of soft now, so some of these projects that were ambitious a year ago may not be so ambitious now," stated board of supervisors chairman Ken Boyd.
But Mallek says no matter what happens, it will take more than her vote on the board to get things done.
"I hope that we will get back to that sense of community I remember as a child where people are all pulling in the same direction. That would be a huge benefit if we could achieve that," shared Mallek.
Boyd says it's hard to predict what could come up in any given year. However, he knows right now transportation and emergency services are also going to be big ticket issues in 2008.