McGowan Murder Suspects Arrested
Posted:
Updated: Nov 13, 2007 05:06 PM EST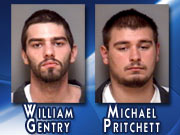 Charlottesville police have made two arrests in connection with the murder of Jayne McGowan last Thursday. Charlottesville police made a big break in this murder investigation Monday night.
22-year-old William Douglas Gentry Junior and 18-year-old Michael Stuart Pritchett were arrested Monday night and charged with capital murder. Both men are Charlottesville residents.
Gentry has prior criminal records dating back to 2003 including vandalism and petit larceny. Pritchett has charges of burglary and breaking and entering on his record, dating back to 2002.
Police recovered two handguns they believe were used in this crime. Their house is just feet away from the road where McGowan's car was found on Sunday. Police say they probably knew about the almost hidden pathway because of where they live.
Two co-workers found McGowan in her home on St. Clair Avenue last Friday with a gunshot wound to the head. McGowan will be laid to rest on Thursday in New York.
Pritchett and Gentry face four charges in this case:
used or attempted to use a fire arm during a robbery

entered a home to rape, murder or rob

stole a laptop and car (McGowan's Dell laptop and 2001 Nissan Sentra)

killed McGowan willfully, deliberately with premeditation while armed with a deadly weapon
Both are set to appear in court on November 29 to schedule a preliminary hearing date. The court appointed Rhonda Quagliana and Lloyd Snook as the defense lawyers in this case.
Related Information - City of Charlottesville Press Release:
CHARLOTTESVILLE, VIRGINIA - On Monday evening, November 12, 2007, Charlottesville Police Detectives arrested 22-year-old William Douglas Gentry, Jr. and 18-year-old Michael Stuart Pritchett, both residing at 539 Caroline Street in Charlottesville, in connection with the homicide of 26-year-old, Jayne Warren McGowan.
Ms. McGowan was found dead in her home on Friday, November 9, 2007, with a gun shot wound to the head. Investigators have been working around the clock to piece together the circumstances that led to her death.
Late yesterday afternoon, investigators received information that led them to Gentry and Pritchett. Probable caused developed over the course of the evening which led to their arrest.
"On the day before her parents have to bury their daughter Jayne, I hope that this news will allow them to say goodbye with better closure and end this terrible chapter in their lives," says Chief Timothy Longo. "I want to take this opportunity to thank our dedicated staff who worked tirelessly for the past several days and to the public, for without their concern and assistance we wouldn't have been able to announce these arrests."
Investigators have since recovered two handguns which they believe were used in the commission of this crime. A search for additional evidence in the case is underway. Gentry and Pritchett have both been charged with Capital Murder and are being held at the Albemarle-Charlottesville Regional jail.