December 8, 2008: Alleged Spivey Victim Speaks
Posted:
Updated: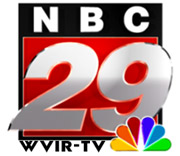 Reported by Paul Merrill
December 8, 2006
Friday's unsealed indictment contains the identities of Jonathan Spivey's alleged victims. One of those alleged abuse victims contacted NBC29 this week.
NBC29's Paul Merrill traveled to Raleigh Thursday and Friday he reported live with the alleged victim's story.
The man told NBC29 his memories of Jonathan Spivey are nightmares that haunt him both night and day. He said he never talked about this alleged abuse until Charlottesville detectives contacted him this fall and he's never told his story publicly...until now.
"I have to live with this every day. I have to wake up every day, knowing that this man is still out here, doing the same thing he did to me. He's still doing it and nobody's doing anything about it," stated the alleged victim.
The man asked us to hide his identity because he is one of the four people named in the seven-count indictment against Jonathan Spivey. Spivey is a Charlottesville High School chorus teacher who has now resigned amid allegations that he sexually abused students.
"There was some physical and verbal...both happened. Both occurred...not just one time...several times," the alleged victim said.
And now the 23-year-old man says some of that abuse happened within the walls of Charlottesville High School. Years passed and the alleged abuse victim now lives hundreds of miles away from Charlottesville in the suburbs of Raleigh, North Carolina. But he says he's haunted every day by memories from high school.
"iIve been living with this drama all my life and, finally, I'm getting peace. But even with me getting peace, it's still not the peace that I want because of the way they're handling it," he shared.
Frustration pushed him to contact NBC29. He says prosecutors are giving Spivey special treatment.
"They should not have given him time to turn himself in. They should not have left that decision up to him," he stated.
Prosecutors tell us defendants are routinely allowed to make arrangements when it comes to surrendering themselves to law enforcement. Commonwealth's Attorney Dave Chapman says his office is not giving Spivey special treatment.
Still, the alleged victim says Spivey is being handled with kid gloves because of his place in the community: both in the schools and at the Mount Zion First African Baptist Church.
"The pastor of the church is the chairman of the school board. There's a whole lot of stuff that just doesn't settle right with me," he said.
The alleged victim scoffs at the brief hospital stay that delayed Spivey's surrender to authorities. "He's saying that he's sick and he's saying that he has a mental condition or whatever the case may be. Well, I have a mental condition. I'm sick. I'm hurting," he said.
Commonwealth's Attorney Dave Chapman told NBC29 on Tuesday that there was a legitimate medical condition keeping Spivey from his first scheduled bond hearing.
Tune in Friday night at 11 for more of our exclusive interview about how a recent police interview wasn't the first time this man says he was questioned about his relationship with Jonathan Spivey.