Incident at Allen Campaign Stop in Charlottesville
Posted:
Updated: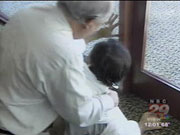 Reported by Henry Graff
October 31, 2006
Senator George Allen (R) was at a campaign stop in Charlottesville Tuesday morning when a protestor was tackled by campaign staffers.
As Senator Allen was exiting a ballroom at the Omni Hotel, UVA Law student Mike Stark stopped the senator and began to ask him questions. Those questions were about whether or not the Senator spit on his first wife.
Stark pushed his way through some staffers and followed the senator out of the main ballroom and into a hallway. That's when one Allen campaign staffer put Stark in a headlock and threw him to the ground. Stark was also removed from the building.
Stark was not injured and is pressing charges. Allen was taken back into a conference room.
Allen says everyone has a right to free speech. "People have a right to express themselves and do it in a peaceful manner. And that's their right to do so," stated Allen.
Prior to the incident, Senator Allen was rallying with North Carolina senator Elizabeth Dole and local supporters. Allen said he wanted to talk about the issues in the campaign, including staying th ecourse in the war in Iraq and lowering the tax rate. Allen continued to call himself "The Common Sense Jeffersonian Conservative."
Meanwhile, Stark has written a letter to the media about the incident. You can read that entire letter by clicking on the link above. Also available is the Allen campaign's response to the incident.