Sweet or Tangy - That is the Question for Fluvanna Foodies
Posted:
Updated: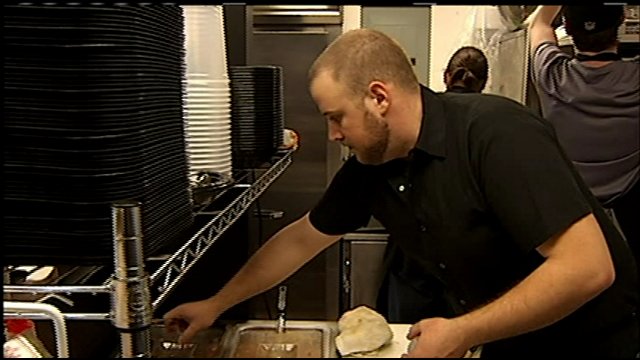 Two J's Smokehouse, a restaurant at the intersection of Routes 15 and 53 has become the talk of the county
Sweet or tangy are two popular words in Fluvanna County these days. Two J's Smokehouse, a restaurant at the intersection of Routes 15 and 53 has become the talk of the county. Some say it's just what Fluvanna needs.
Jerome Smialek and Josh Ball are the two J's and both have dabbled in barbeque for some time. Ball is the pit master, Smialek follows his lead.
Ball and a former partner from Richmond won 22 state titles for their special sauce and meat. "We were the KSBS, Kansas City Barbeque Society Team of the Year in 2007, third place in 2008," said Ball.
The restaurant is family owned and operated. The two J's are related, and Ball's wife works the front counter. They wanted to set their operation apart from others, so they opted for a different smoking method.
"I use a controlled smoker that is all wood," said Ball. "Where most people around here use either a southern pride and old hickory."
The ribs are prepared in a Memphis style, while the brisket is more an East Texas taste.
Smoking all the pork, chicken and sausage takes some time. The restaurant is closed Monday and Tuesday to get the meat ready.
Back in the kitchen, Ball and Smialek whip up your traditional barbeque dishes like brisket, pulled pork and some country side dishes. But they also have some things on the menu you might not think of ordering at a barbeque place, like a smoked trout salad.
"We didn't want to be just pigeonholed into just the barbeque where people can only come here to get barbeque," said Ball.
The restaurant has only been open for a few weeks, but business has been non-stop. Jamie Cathers drives 35 minutes at least three times a week for take out.
"We usually get an order for the whole office," said Cathers, "everybody wants it."
"I actually have a couple of friends with some barbeque places in Rockingham," said Ron Mayes, "but I have to say this is about as good or better than most."
The restaurant still needs a few more employees and it's running a tight ship right now, but customers say as long as the two J's keep serving some good old country cooking, they'll wait a few extra minutes.
"It's great for Fluvanna to have a great place to eat," said a customer.