Housing Market Affecting City School Enrollment
Posted:
Updated: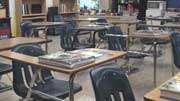 Charlottesville City Schools enrollment is down 700 students from a decade ago.
The number of students enrolled in Charlottesville City Schools has dropped by more than 700 in the last decade. While there are a number of factors at play in the decline, the real estate market may be having a significant impact.
Charlottesville Schools Superintendent Dr. Rosa Atkins says what many young families are finding in the city are dream homes they can not afford, forcing them to move elsewhere with kids who would otherwise fill city classrooms. Atkins is now fighting to reverse a decade of decline in student enrollment.
"We're starting to rebuild our programs and what we offer in our school system to make our school system more competitive, that's working," she said.
What is getting in Atkins' way, in part, is affordable housing. She says many young families simply can not afford a starter home within the city limits.
"We need to put focus in those areas in which we can put housing for families who have two or three children with middle income," Atkins explained.
"It can be challenging in those price points above the condominium, but below the $400,000 or $500,000 range, if you are looking for a home," stated Greg Slater of the Charlottesville Area Association of Realtors.
Since 2001, the number of students in Charlottesville City Schools has dropped 12 percent. Compare that to Albemarle County, where the student population is up 5 percent over the same period.
"I think if you look at the last 10 years you're going to see more development in Albemarle County in the urban ring and I think that's led away some of the families into the county over the city," said Slater.
The Charlottesville Area Association of Realtors says financing options and a growing number of homes on the market could help draw families back to the city.
"The inventory has increased and I would say now more than ever there is more housing that fits these needs," said Slater. "But these are pretty big-picture trends that are going to take a while to change."
"We want to make sure families know that we want them in our school division, we want the programming that's necessary but we also want to provide the homes that are necessary," said Atkins.
The Charlottesville Area Association of Realtors has a program that is helping public employees afford to live in the communities where they work. It is just one effort that is helping to draw families and students back to city schools.
To find out if the program might be right for your family you can find more information on their website.