Police Battle Rise in Child Porn Cases
Posted:
Updated: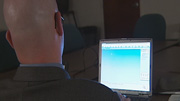 Charlottesville and Albemarle County are doing their part to reverse the disturbing trend.
New statistics show that child pornography is increasing faster than any other crime in the state of Virginia. Since 2003, the number of child pornography cases has risen by 218 percent and Charlottesville and Albemarle County are doing their part to reverse this disturbing trend.
"Would you let your 4-year-old, 7-year-old, 8-year-old walk through a park with predators with no adult supervision? That's exactly what's going on on the internet right now," stated Albemarle County Sheriff Chip Harding.
Harding knows child pornography is more than just a statistic; it is something the county is dealing with on a daily basis.
"These are pre-pubescent children, normally under the age of 10, being raped and molested on film," said Harding. "We know that there are literally hundreds of downloads occurring every month right here in the Charlottesville area."
Statistics show that one in five children have been sexually solicited online. Of those children, only 12 percent actually report the incident to their parents.
"Eventually, the public will wake up and say, 'This is a problem. This isn't just a few people telling us we have a problem, but we're seeing it,'" said Harding.
Both Charlottesville and Albemarle County police have workers dedicated to investigating internet crimes against children.
"We have two detectives here who are dedicated to those cases," said Charlottesville Police Department Chief Tim Longo. "They probably, within the region, were part of at least 50 cases over the past year or so."
Harding says it is a task force that he would like to see increase.
"I happen to feel in my heart that I would rather see somebody in my area working on this full time rather than adding somebody to write more speeding tickets," he said.
"Really, it's like shooting fish in a barrel, and that's a sad commentary to know that there's so much of this type of activity that takes place right here in our own community," added Longo.
Both Charlottesville and Albemarle County police are part of the Southern Virginia Internet Crimes Against Children Task Force.
The Albemarle County Sheriff's Office is working to spread awareness through education by scheduling presentations to warn both parents and kids of the dangers that exist online.