City Plants Trees To Stay Green
Posted:
Updated: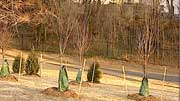 The city will plant around 200 saplings.
This month, Charlottesville Parks and Recreation embarked on an effort to plant hundreds of new trees around the city. It is part of a city-wide effort to keep Charlottesville green.
Charlottesville City Councilor David Brown explained, "If you look at Charlottesville from above, you see a lot of tree canopy and a lot of tree cover but that does not happen by itself."
New plantings already line Forest Hills Park and are taking root along McIntire Road. There will be around 200 trees varying in all species from oaks to maples.
Brian Daly, of the Charlottesville Parks and Recreation Department described why the city chose January to plant. "During the dormant season when trees are not actively growing is the best time to plant, you can better ensure survivability of the tree going forward."
The trees cost about $225 each. In all, the city will spend around $450,000. The hope is that they will help replace those that were lost in last year's storms.
Brown added, "It's especially important this year because we've lost a lot of trees and you look around the city and certain neighborhoods kind of got decimated by the storms, I think it is the perfect time to set a goal like that."
The team leading the charge says these trees will also boost the city's fresh air. Daly stated, "The carbon sequestration that trees provide and the creation of oxygen and so forth, it's just a great thing to have and we want to have more. "
The new trees will be planted in a number of locations across the city. Charlottesville's parks and recreation department hopes to have them all in place by February.