Hurt Skips First Candidates Forum
Posted:
Updated: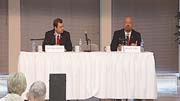 The seats in the audience were filled, but one seat at the candidate's table was empty.
The race for the 5th District congressional seat came to Albemarle County Wednesday afternoon as two of the three men who want the job sat down for a candidate's forum put on by the Senior Statesmen of Virginia.
Republican Robert Hurt declined the invitation to speak at the forum, the first time a candidate has not appeared since the debates began in 1996. The public discussion between incumbent Tom Perriello and his independent challenger Jeff Clark went on as planned, however, as both candidates made sure to point out Hurt's absence to the crowd.
It all started with a friendly handshake but quickly turned into back and forth conversations about a number of big issues, spanning from foreign wars to federal debt. Clark stayed true to his tea party roots, stressing hands-off government and simplifying legislation.
"If we look at the Constitution and the first ten amendments, they were very concise and short. We have a 2000 page health care bill, ladies and gentlemen," said Clark. "What's happening is, we're creeping down that road towards some type of European socialist democracy."
Perriello defended his controversial votes on health care, stimulus money and cap and trade and talked up keeping jobs in America's economy.
"Everyday we wait we continue to send American jobs overseas that could be the kind of things that you could support a family with here," Perriello said. "Our economic problems go deeper than any one president or any one party."
The candidates also touched on the bill passed on the House floor Tuesday that will save teacher jobs in the district, and the state of a Norfolk military command.
There seemed to be an air of disappointment about Hurt's absence coming from both the candidates and the constituents at the forum. Perriello announced the status of debating Robert Hurt, saying he wants four one-on-one televised debates with the republican candidate before election day. This comes after Hurt has refused to participate in debates with Clark.
"I think it would be better if all candidates were allowed, but if that's not plausible, I think we need an opportunity on television for voters around the district to hear from that," Perriello said. "And I hope Senator Hurt will not back out of that challenge."
Hurt's campaign manager Sean Harrison says that they are willing to debate Perriello anywhere and anytime.