Albemarle Focusing on Child Safety
Posted:
Updated: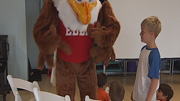 George brought her son to Child's Safety Day at the ACAC in Crozet.
Albemarle County's Sheriff's Office wants to keep children safe, and they're taking the message on the road for kids and their parents.
Child Safety Day was held Saturday at the ACAC in Crozet. It was the first time the sheriff's office brought the gun safety program 'Eddie Eagle', fingerprinting and internet safety to the same place.
Nicole George has a 3-year-old son, and she knows he can't hear the message about safety enough. George said, "It's just a matter of trying to protect him as much as we can, and reinforce the good things that he knows already as far as safety."
George brought her son to Child Safety Day hoping that the officers and Eddie Eagle could teach him a few things. George was surprised to find out that the sheriff was going to teach her as well.
Sheriff Chip Harding said, "I think the first step is prevention at home."
Saturday, the lobby was packed for child fingerprinting and the kids heard all about gun safety. However, the new message is for parents: protect your children from online predators.
Harding said, "There's so much more going on today, and parents are so much more busy that they need to be more vigilant, and we're here to offer programs to help them with that."
Sheriff Harding says the increasing number of online crimes nationwide is what prompted him to try to stop it before it becomes a bigger problem in central Virginia.
While many 3-year-olds have barely touched a keyboard, George is making sure she has rules ready for her son when it comes to computer time. "If they want to make contact with our children they're going to, and so we need to be as proactive as we can," she stated.
Sheriff Harding hopes to hold Child Safety Day at other spots across the county in the future.