Zion Crossroads Truck Stop Evacuated
Posted:
Updated: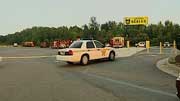 An unusual substance brought business to a standstill at a Louisa County truck stop Tuesday night. Hazmat crews responded around 6 p.m. to the scene of a spill at the CITGO Truck Stop just off Interstate 64 at Zion Crossroads.
A lieutenant with Louisa County Fire and EMS says a truck driver was returning to his cab after fueling up and found the leak. The unidentified corrosive managed to seep out of a metal barrel and eat through the bed of the truck.
The parking lot was evacuated and drivers stranded. The lot serves as a rest stop and scale station for long distance drivers but it was roped off starting at 6:00 p.m.
"Anytime we have a tractor trailer that's placard, dangerous, or flammable, we've got to take out precautions to clear out the area," explained Delbert Feaster with Louisa Fire and EMS. "Just because we don't know how much cargo is in that truck or what he's hauling."
Hazmat crews were called in from Charlottesville to try and figure out exactly what they found. The truck driver says he was hauling a bio-degradable material that's often used by oil companies. The spill has been cleaned up and crews have sealed the leaking drum inside another drum.
Reported by NBC29 HD News