McDonnell Signs Health Care Freedom Act
Posted:
Updated: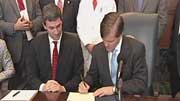 Wednesday afternoon Governor Bob McDonnell publicly signed a set of bills that makes the new Obama health care law illegal in Virginia. Virginia has already sued to block the health reforms and state Democrats are not happy about any of it.
The governor formally approved the so-called Health Care Freedom Act several weeks ago, but celebrated the legislation at a public ceremony Wednesday. Democrats call that move, and Attorney General Ken Cuccinelli's lawsuit against the federal health care law, wastes of time and money.
The measures McDonnell signed prohibit the federal and state governments from requiring you to carry insurance. That, of course, contradicts a key provision of the president's health care reform which includes an "individual insurance mandate." Virginia's lawsuit claims the mandate is unconstitutional.
"There are any number of things that may be meritorious ideas in the eyes of the Congress," McDonnell stated. "But they don't have the authority to enact under our system of federalism."
"This is going to be a frivolous lawsuit," countered 9th District State Senator Donald McEachin (D). "Virginia is going to lose this lawsuit and with it hundreds of thousands of dollars in man hours."
Wednesday, the Democratic Party of Virginia filed a Freedom of Information Act request to find out exactly how much taxpayer money will go into this lawsuit. Democrats also compared resistance to health care reform to Virginia's "massive resistance" against desegregation 50 years ago.
Governor McDonnell says he is surprised by that comparison, but would not comment on whether it was a low blow.