UVA Gets New Lab
Posted:
Updated: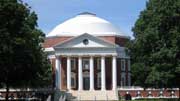 The University of Virginia is showing off a new million-dollar laboratory.
The I-Lab was unveiled during a ribbon cutting ceremony Friday afternoon at the Darden School of Business. The innovation laboratory is a space to support the teaching of design thinking with real construction tools.
Darden School of Business Dean Bob Bruner says, "This is going to give students a chance to practice what they actually study and that means they'll be able to design and innovate rather than simply read about others who've been designing and innovating."
The lab has been more than three years in the making. The I-Lab will host several courses on innovation and product development.