Education Rally Held In Richmond
Posted:
Updated: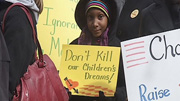 Parents, teachers and students from all over the Commonwealth rallied in Richmond Saturday to stand up for public education.
The Orange County Education Association organized the rally that took place on the Capital Square grounds in Richmond. Educators from across Virginia came together to oppose the General Assembly's proposed budget cuts.
The rally of hundreds at the state capitol started with just a single bus driver from Orange County who was upset by proposed budget cuts to public education.
Dr. Bob Grimesey is the Orange County Public Schools Superintendent. Grimesey says, "A number of our teachers and parents decided that they just wanted to be heard."
The Virginia Education Association was there in support of the rally. VEA member Robley Jones says, "This is one bang on the drum in what's going to be a long, long battle."
Word of the gathering went viral with the help of e-mail, Facebook and Twitter. Teachers from Orange and Charlottesville schools to Henrico and Richmond came out to send a message to budget negotiators. Teacher Keri Treadway says, "We need to support our future and support our education and our students and our teachers."
The House's proposed plan would cut $730 million to K-through-12 funding, while the Senate's would cut $130 million. But these educators say they won't let the cuts happen quietly. Grimesey says, "We've got to fully analyze and consider every possible way that we can pay for public education in Virginia."
Jerry Bledsoe is the Orange County School Board Chair. Bledsoe says, "Today isn't the end of it. We're going to keep fighting and keep speaking, because we want to be heard."
Educators are encouraging parents and teachers to make calls to their legislators in support of public education. They say Saturday's rally was grass-roots America at its best.