Barboursville's Biggest Loser Drops 165 Pounds
Posted:
Updated: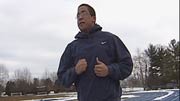 If you are having trouble losing the same 30 pounds you set out to lose three resolutions ago, you are not alone. Losing weight is a huge challenge both physically and mentally, but for proof it can be done look no further than Khourey Royal, Barboursville's biggest loser. He lost 165-pounds in just over a year, and he says he is not quite done losing yet.
Royal's weight-loss journey started a little more than a year ago, and without much fanfare.
"I kinda woke up one morning and thought I'd take the initiative to improve my life and improve my health and getting in better shape," Royal said.
The day he made that choice, Royal weighed around 430 pounds; today he weighs 265. He lost that 165 pounds the old fashioned way; no surgery, no pills, just diet and exercise.
"I'm a runner," Royal explained. "I run between 30 and 40 miles a week. Long runs between 10 and 11 miles and short runs like 5 or 6 miles."
He has marched with the University of Virginia's Cavalier Marching Band for four years. Band Director Bill Pease says watching his journey has been nothing short of amazing.
"The entire band has seen it and they talk about it constantly," he said. "I always joke that he's lost a whole person; he really has."
Pease says losing weight has made Khourey a stronger player, and changed him for the better.
"He's happier, he's not as fatigued, and I think just overall it's been a great change for him and just seeing him as a person, really grow as a man it's been great," Pease said. "He's not growing as a man anymore, he's shrinking."
"This is not just a weight loss process," Royal said. "It's now a new way of life. I'm living a healthier cleaner way of life."
A new way of life that he believes has given him a few extra years, and he says if he can do it, you can do it too.
"Just be patient," he said. "There are definitely times when you're gonna plateau, you're not gonna get to where you want right then but you just gotta stick with it, keep going at it."
Khourey gives a lot of credit for his weight-loss to his friends who he runs with. They use running as a social activity, and have pushed him to run further and harder.
As if the 165 pounds was not enough, Khourey says he is shooting to lose another 20 and then maybe he'll be satisfied.