VDOT Continues to Address Winter Storm
Posted:
Updated: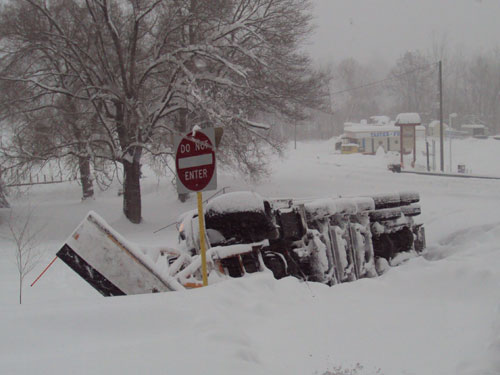 Crews with the Virginia Department of Transportation (VDOT) continue working to clear interstate highways and major primary roads around the state after the major snow storm dropped up to two feet of snow in some areas of western Virginia.
Motorists are asked to avoid travel today if at all possible as roads remain snow covered and treacherous in much of the commonwealth and as a significant number of accidents and disabled vehicles are blocking roadways.
Portions of Interstate 81 remain closed after serious overnight accidents have blocked the roadway and hindered snow-removal efforts. Portions of I-77 near the West Virginia border have also been closed sporadically through the night and day due to accidents and weather-related impacts.
VDOT, State Police and the Virginia National Guard are working with local governments to reach motorists who are stranded in their vehicles but they are hindered by disabled vehicles and accidents. Emergency supplies are being provided to motorists by local governments and the Virginia National Guard.
Drivers are being asked to stay with their vehicles unless there is an emergency so that snow-removal crews can get traffic flowing as soon as accidents are clear. Abandoned vehicles block roadways and prevent plows from clearing snow. For traffic updates, motorists should call 511 or visit 511Virginia.org. If a stranded motorist is in immediate danger or is experiencing an emergency, they should dial #77 or 911.
Motorists waiting in traffic should:
Stay with their vehicles
Conserve fuel but periodically turning off their vehicle. Motorists should run their vehicles for 10 minutes to warm the passenger cabin, and then turn the engine off for 20 minutes to conserve fuel.
Understand that it will take time for emergency crews to reach them, however state and local emergency responders and road crews are working to get to them and restore traffic flow.
Driving Tips
VDOT reminds motorists to use caution when driving during wintry weather. Drivers should:
Only travel today and tomorrow if it is absolutely necessary. With road conditions still listed as severe for most of the commonwealth, it is best to stay off the roads if you can.
If you must travel, check road conditions before they leave home by calling 511 or logging in to 511Virginia.org
Slow down and allow for extra time to reach your destination
Keep a safe distance of at least five seconds behind other vehicles and trucks that are plowing the road
Do not pass a snowplow or spreader unless it is absolutely necessary
VDOT's Winter Weather Facts
VDOT has 2,314 pieces of snow removal equipment, 3,146 crew members, 62,000 tons of sand and 239,000 tons of salt working to clear roads during this storm, and it has enlisted private contractors to assist state crews.
VDOT crews will work around the clock to address this significant snowfall.
Crews focus on the highest traffic roads first—clearing interstate highways and major primary roads before working on secondary roads and subdivision streets
VDOT's goal is to have all roads passable within 48 hours after a storm ends
Motorist Resources
VDOT has a variety of information sources for road condition updates. The 511 traveler-information service gives drivers the most up-to-date data available about weather, construction and accidents that may affect travel. Updates can be received by calling 511 from any landline or wireless phone or by going online to www.511virginia.org to view traffic cameras, the road condition map and the road condition table-report. Individuals can sign up for e-mail alerts that include weather and incident reporting on the 511 Web site.
For overall winter weather information, VDOT's Web site includes frequently asked questions, driving tips and tools for motorists to learn more about VDOT's winter preparedness at http://www.virginiadot.org/travel/snow.asp.
Drivers can also view videos detailing how VDOT prepares for winter weather and address snow and ice on You Tube. Snow videos are posted at http://www.youtube.com/user/vdotweb#grid/user/84A0942814F2FECC
For more information about Virginia's efforts to prepare for winter weather and other emergencies, visit www.ReadyVirginia.gov. The National Weather Service, Virginia Department of Emergency Management, Virginia Department of Social Services and other state agencies have created the "Ready Virginia" resource to provide residents and visitors with a one-stop shop for emergency preparedness tips and information.