Planners Want To Increase City Tree Canopy
Posted:
Updated: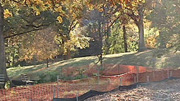 Charlottesville's Parks and Trail Planner joined neighbors at Piedmont Virginia Community College to talk about ways to increase the city's tree canopy.
"They (trees) make your parks pretty, a nice place to be, they give you sanctuary from traffic and jobs and that type of stuff," says planner Chris Gensic.
Forty-seven percent of Charlottesville is covered with trees. In the Greenbrier neighborhood that number jumps to about 85-percent. Gensic would like to see similar success in Fifeville where the percentage is in the 30's.
Gensic says, "People feel that Charlottesville is a very outdoors oriented city, they like the trees, they like the fact that it is not all paved over, all concrete, and we have a city that is somewhat like a garden and people really enjoy that."
Jackie Vawter of the Charlottesville Area Tree Stewards says homeowners play a large role in increasing the number of trees in the city. "There's a lot of other space in the city and that's our own front yards, our backyards, and if we plant good tree species and we take care of them well, then that's going to improve the canopy."
Vawter say an improved canopy can also boost your home's curb appeal. "It will make your property look good, it will increase the value of your home, and it will provide so many other benefits."
Gensic says it could also work wonders in getting cars off the street. "You make it so you're sitting in traffic, looking over at somebody walking in the shade and you think I ought to try that, that looks pretty nice."
Charlottesville Area Tree Stewards is creating a series of workshops to help homeowners keep Charlottesville green.
You can contact the group at cville.area.tree.stewards@gmail.com.