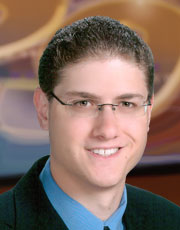 Eric joined NBC29 in October 2009 as a general assignment reporter for the station's Shenandoah Valley Bureau. Eric is excited to bring his passion for storytelling and TV-News to Central Virginia.
Born and raised in the suburbs of Los Angeles, Eric attended the Walter Cronkite School of Journalism and Mass Communication at Arizona State University in Phoenix. (Go Sun Devils!!) Eric is in awe of actually seeing leaves change colors with the various seasons.
Throughout his college career he was always involved in broadcasting. He was the news director, and lead political reporter for ASU's radio station. In November 2008 he anchored radio coverage of the historic presidential election. In 2009 he was a general assignment reporter for "Cronkite NewsWatch," the nationally recognized television newscast produced by students of the Cronkite School. He also provided some play-by-play and color commentary for various Sun Devil sporting events.
From his elementary school days, Eric has always wanted to be a professional broadcaster. Until his college days his dream job was to be a network sports broadcaster. His path changed slightly after a meaningful internship with KNBC-TV in Los Angeles. His time with "The Channel 4 News," gave him insight into the critical importance and joys of TV News reporting.
Eric is an avid sports fan. He enjoys watching basketball and baseball. But, his favorite sport is golf. Eric is really looking forward to perfecting his swing on some of the wonderful golf courses Virginia has to offer.
Eric knows he is going to love exploring the beauty and history of the Commonwealth. He always welcomes comments from viewers. If you have a story idea or just want to say "Hi!" please email Eric at efink@nbc29.com
---
FUN FACTS: Eric Fink
Memorable Interview: I interviewed a 15 year-old teenager in labor. I was doing a story in Arizona that focused on how the slumping economy forced prenatal care units for teenagers and young women to close down.
Dream Interview: I would love to sit down with the five current living Presidents and discuss how the country and the world has changed since their time in the White House.
Dream Job: Play-By-Play Network Sports Broadcaster
Most rewarding part of your job: Providing a voice for people and the community who have critical stories to tell.
Favorite TV show: 24 and Breaking Bad are both can't miss shows in my book.
Role Model: My parents. Without their continued love and support, I wouldn't be where I am today.
Why I'm A Journalist: I love meeting new people and getting the everyday opportunities to bring their concerns and unique stories to the forefront. I also love the fact that everyday in this business is different and you never know what awaits you when you get into the office.
Alma Mater: Arizona State - Go Sun Devils!!!
Hometown:. Los Angeles
Hobbies: I love to hit the links work on my golf game.
Favorite Food: Chicken Marsala
Favorite Sports Team: San Francisco Giants
Favorite Musician: Bob Dylan
Favorite Authors: John Feinstein
Favorite Vacation Spot: Lake Tahoe