Charottesville's Jefferson School Faces New Future
Posted:
Updated: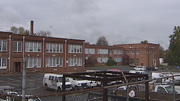 A multi-million dollar make-over is on the way for Charlottesville's Jefferson School.
It's served as a cornerstone of the African American community for more than 125 years, and soon the school will become a city center for business, education, and history.
The goal here is two-fold. First, the plan is to create a vibrant city center which will bring more offices and businesses into Charlottesville. The second part is to create the region's first African American heritage center.
Heritage committee member John Gaines of Charlottesville spent much of his life walking the halls of the Jefferson school. "I was at Jefferson as a student, as a teacher, and as an administrator and therefore Jefferson is very special to me."
Jefferson School was seen as the flagship for integration during a time in Virginia history where black and white students were segregated. But now the city has plans to open the school's doors to new possibilities for the future, by renovating the building into a city center with a heritage center. Gaines is on board as a part of the heritage committee.
"Oh it's gonna be a very vibrant center. There will be space there for performances. I'm looking forward to some of that space being able to attract jazz musicians to the city.
Music and the arts will fill the now-quiet halls, and classrooms could become professional offices. But Gaines says the school's past as a place for community education won't be lost in the restoration.
"At some point, there will be different types of learning centers. There will be programs offered to youth in the community."
Gaines believes the heritage center will be a strong addition to the new city center project, allowing future generations to look back and remember Charlottesville's past.
"It's an excellent opportunity to tie in the history of African-Americans to their contributions to the city of Charlottesville's surrounding area.
Design and engineering for the city center are now underway. Construction is scheduled to start up in the summer of next year. That means the building should be ready for occupancy by early 2012.