High School Rallies Behind Homecoming Queen
Posted:
Updated: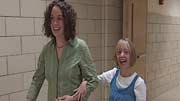 In Orange County this year, when high school students cast their votes, they chose a winner who makes this year's Homecoming tough to top. They chose Lauren Johnson, but she's not your normal Homecoming Queen.
She has Wolf-Hirschhorn Syndrome, a disorder that delays development. Lauren is the size of an eight-year-old, and has limited speech.
"She started her life as a failure to thrive, that was her identifying label, and went through lots of specialists, hospitalizations, that kind of thing," says Lauren's mother Gena Keller.
Today Lauren is a thriving socialite at Orange County High School. Her mother says the moment she was named queen was priceless.
Right after the announcement, her king arrived.
"I ran out to her and escorted her to the middle of the field," says Orange County High School senior Corey Schmidt.
When she made Homecoming Court, good luck signs were all over the school and even on the marquee of one Orange County business.
Students say virtually the whole school rallied behind Lauren.
"We have a lot of different groups in the high school, but we all came together and we voted for her. And I think we showed to a lot of people that we really do care," says senior George Hufnagel.
Homecoming week kept Lauren busy. She took pictures with the mascot at the pep rally, dressed up with the medical aide class as a nurse, and went to the Homecoming dance.
"We went scrounging for dresses. We found some beautiful outfits, and all Lauren knew was that she got to wear a really pretty dress to a big party," says her mother.
Homecoming King Corey Schmidt says it was no surprise when Lauren won queen.
"I knew everyone was going to vote for her because she makes everyone smile," he says.
"I don't think there was anyone who was upset about that, not even the other candidates," George Hufnagel says.
Lauren's mother Gena Keller emphasized to NBC29 that voting Lauren their Homecoming Queen speaks volumes about the character of the students at the school, and that it was an amazing thing they did.