New Location for MJH Sleep Center
Posted:
Updated: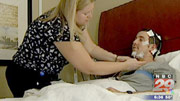 The Martha Jefferson Sleep Medicine Center has seen an increase in the number of patients. The center recently moved to the Hilton Garden Inn on Pantops to accommodate the growing number of people.
The sleep center said there are a number of reasons why a person doesn't get enough sleep but recently the economy seems to carry a lot of the blame.
"Sleep problems and sleeplessness have been one of the most common complaints patients have for the doctors so I think these economic times sort of stimulate that as well," said Dr. Chris Winter, Medical Director of the Martha Jefferson Sleep Medicine Center.
The sleep center opened its doors about five years ago. Technicians hook patients up with multiple wires and sensors and overnight they monitor the person's sleep patterns.
"What we're looking at is to see how long it takes her to go to sleep and if while they're asleep if they go into REM sleep," said technologist Tabatha Greene.
Dr. Winter said insomnia affects about 30 percent of people and sleep apnea 20 to 25 percent.
Work related issues, family stresses, sleep disturbances, obesity and anxiety are just a few factors that can affect a person's sleep.
"It creeps into your health and if you ignore it, it can just get worse and worse and start to affect more and more things," said Dr. Winter.
Dr. Winter said moving the sleep center to the Hilton has been great. The idea is to make patients comfortable and make their sleep surroundings as familiar as possible.