The Day after the U2 Concert
Posted:
Updated: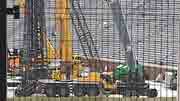 The music has stopped, but the U2 hype isn't over. It will be another few days before all signs of the big concert disappear from Charlottesville.
The field at Scott Stadium is looking a lot emptier than it did Thursday night. Crews have been working there since the concert, taking down the lights and video screens. They completed that task at 4 a.m.
Now they're working on deconstructing the metal stage structure, with the help of four cranes. It will take crews until about 7 a.m. Sunday to finish up.
Outside the stadium last night, people in charge of the concert say traffic went exactly as planned. For the bars and restaurant on the corner, the crowds were much bigger than any standard concert at the John Paul Jones Arena.
"It actually hit like we would never believe. The concerts around here, JPJ, two hours beforehand you get hit, you're done. But yesterday everyone was out from 2:30-3:00 to 8:30, concert has already started and everyone is still out having a good time," stated Amber Garrett, a manager at one of the Charlottesville bars.
"We were monitoring traffic from helicopters and traffic cams in the sky. It never came to a standstill. It got slow at times, but everybody was in the building by 8:15," shared JPJ General Manager Larry Wilson.
Wilson says Scott Stadium would love to host a concert like this every two to three years, but it's tough to find bands that can pull the size crowd that U2 can.
Hotels in the area were also completely sold out. One person told us he and his wife found a place to stay at the Darden School of Business.