Shenandoah Acres Campground Re-Opens
Posted:
Updated: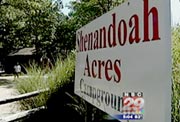 For 70 years, an Augusta county summer usually meant a trip to Shenandoah Acre. The family-owned resort shut down after the 2004 season but now it's back open with grand plans for the future.
This is the first Labor Day weekend in five years for the Shenandoah Acres campground near Stuarts Draft. Owners will mark the holiday, and their return, with cookouts, horseshoe contests, and live bluegrass music but they say the real celebration is still to come.
Tents and RV's are setting up for the long weekend at the Shenandoah Acres campground. The facility quietly opened this summer but plans a grand re-opening next year.
Some of the campers are seeing "The Acres" for the first time. Many are families getting re-acquainted with the resort, which dates back to the 1930s.
Campground Manager Mike Desper said, "It is a dear part of their history. It's tradition that is special to them in the Shenandoah Valley and it was a dearly missed facility. They truly enjoy seeing it open back up again and look forward to the future."
Shenandoah Acres' future includes the re-opening of the sand-bottom recreational lake. Owners are rehabbing the lake, but won't yet say exactly how it will be used.
Also part of the future plans are a new swimming pool, and the return of tennis courts and miniature golf.
Desper says he's gotten hugs and handshakes from complete strangers who say they're just happy the acres are back open.