Albemarle Plans for Worst Case Scenario
Posted:
Updated: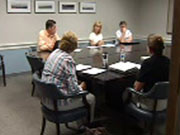 Albemarle County leaders are preparing for swine flu. Friday, a number of different departments gathered to talk about H1N1.
The concern is that the bug could prevent a significant number of employees from showing up to work. If that is the case, the county's IT department is making sure employees have laptops and can telework so they don't have to enter the County Office Building.
Pam Carter, Health, Safety and Wellness Manager, explained, "We're trying to work with our management staff now to determine what are the essential functions that they have to, that they need to deliver and how they could deliver them in a different fashion if their staff was missing."
The other side of this story is prevention. Janitors are thoroughly disinfecting every inch of Albemarle's public buildings. The human resources department is also encouraging people to stay home.