City Explores Benefits of Telecommuting
Posted:
Updated: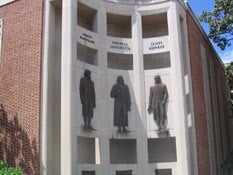 The city of Charlottesville is embracing the idea of telecommuting for both environmental and security reasons. Aside from saving money by not being inside City Hall, top leaders are also checking to see if the city can operate from home.
The answer is yes: if City Hall was to ever have to close for a period of time, then Charlottesville's government can continue to operate. Right now, Charlottesville has more than 50 people who telecommute at some point during the week.
At the city's fire department Wanda Garrison has been working from home for a year and a half. As the fire chief's assistant she can take care of all the ordering, pay bills and do payroll. Garrison says in the event of an emergency things still go on.
"It's basically seamless. I pick up as though I'm here even though I wouldn't be," stated Garrison.
Charlottesville Fire Department Deputy Chief Britt Grimm said, "Login securely - we're able to pretty much see everything that we would be able to see here in our office."
Some city employees can even work from their cars with specialized laptops. During the past year, the city has been running through different scenarios: power outage at City Hall, disease outbreak, a natural disaster and how services can be handled electronically from home or a remote location.