Stimulus Money Aids Summer Job Program
Posted:
Updated: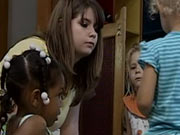 Money from the economic stimulus plan is creating summer jobs for teenagers in the Shenandoah Valley.
Thirty-eight teens in Staunton, Waynesboro, and Augusta County are getting paychecks through the Office on Youth's Summer Youth Employment Training Program.
Fourteen-year-old Ashlynne Kiehl is saving up her paycheck from the stimulus summer job at a Staunton childcare center to help chip in on a family trip.
"We don't have a lot of money," Kiehl said. "My brother - he's autistic - and we need the help around the house."
Kiehl plays games with the kids, lays out cots for nap time, and serves up snacks. She says this job is more than just fun.
"I do so well with the kids, and it's a lot of fun teaching them, helping them," Kiehl said.
Kiehl is just one of the 38 teens learning on the job through the training program. "We may be giving them an opportunity they're not going to have without us," said Office on Youth Division Supervisor Sharon McGaughey.
Forty thousand dollars from the stimulus more than doubled the program's payroll this summer. "We were able to hire more kids, pay them more money, and let them work longer hours," McGaughey said.
The program puts low-income, at-risk, or disabled teens to work in places like schools, childcare centers, stables, and city parks.
"We're not just giving them work skills," McGaughey said. "We're giving them life skills so that they're ready to be contributing members of society."
Cody Campbell is ready to turn his summer job with the program into a full time career. "I'm determined to get this job," Campbell said of his future. "I will get this job!"
Campbell is working with Augusta County Schools' information technology department. It's an experience that he says will pay off for his future.
"This is a great opportunity," Campbell said. "I could not have asked for anything better than this."
The Office on Youth will continue to follow the summer job program teens for a year after their work is done. The office will offer job and life skills workshops, teen activities, and school help.