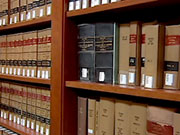 Law students at the University of Virginia will get a unique opportunity starting this fall: the chance to work with low income families in Charlottesville who are in need of legal aid.
The UVA Law School will offer a family alternative dispute resolution clinic, focusing mainly on custody and divorce issues. The idea is to give students legal mediation experience and help families who can't afford a lawyer resolve cases out of court.
"Keep the case out of court, keep the case out of contentious litigation, and in our hope it will be much better for children," said Kimberly Emery, who is the co-director of the clinic.
UVA Law students and professors will operate the clinic with the Community Mediation Center of Charlottesville starting in August.