Reserve Force Helping Sheriff's Office
Posted:
Updated: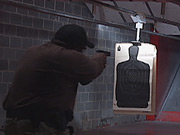 About a dozen people from Albemarle County are now almost fully qualified sheriff's reserve officers.
The Albemarle County Sheriff's Office on Sunday hosted a shooting lesson at the Rivanna Rifle and Pistol Club as part of a training program that teaches people necessary skills to help the department's deputies.
Sheriff Chip Harding says the all-volunteer reserve program saves taxpayers nearly $400,000 a year.
"It enables me, should we have a bad event, a catastrophic storm, a terrorism act, something like that, they're just a phone call away," Harding said, "so I can take my agency that's normally 20 and turn it into 60 in a matter of minutes. And they're ready to respond."
Reserve officers are required to volunteer at least eight hours a month in the courtroom. Volunteers even pay for their own uniforms.