Red Light Cameras Considered for Albemarle County
Posted:
Updated: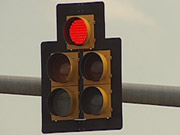 Red light runners in Albemarle County may soon be watched even when police aren't around. After years of research, the County is one step closer to installing red light cameras at three problem intersections.
"It's a dangerous thing to have to step out and try to catch cars running red lights," said Albemarle County Police Lt. Tood Hopwood.
Instead of using their typical enforcement methods, County police want to see the cameras installed at the intersection of Route 250 and Stony Point Road, Route 29 and Hydraulic Road and Route 29 and East Rio Road.
"If you think about how big it is, the traffic flow and the potential for injury with the speeds that are involved it is an intersection that is a huge concern for us," said Hopwood.
For the past several years the police department has been working with VDOT to compile crash data for the sites. In some cases more than 70 violations have been issued by police in one day to red light runners.
"Our goal is to make intersections safer," said VDOT regional traffic engineer, Matt Shiley.
According to VDOT, the cameras have been proven to reduce crashes by 42 percent, but they're only successful if intersections are a good match.
"It's an appropriate tool to use in certain cases, however it's not a fix for every intersection," said Shiley.
At $50 per violation, the citations would bring in a significant amount of money. But Albemarle County police say the bottom lime is the cameras are a safer method of enforcement.
"Enforcement is better with the cameras. The safety alone of the officers not having to actually stop traffic and interupt the flow of traffic in order to chase the violator," said Hopwood.
The Board of Supervisors will talk about the cameras at their meeting Wednesday. If they give it a green light, a public hearing would likely be held later this summer.