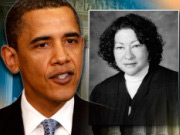 We caught up with a University of Virginia Law professor Tuesday morning after President Barack Obama made his nomination for Supreme Court.
Professor A.E. Dick Howard says Sonia Sotomayor, a federal appeals court judge who would be the first Hispanic Supreme Court justice, is a solid pick for the president. Howard says the nominee has a strong record and a lot of life experience.
He added that Sotomayor's confirmation process should go smoothly.
"There would have to be a tax problem, an ethical problem, something that I think is simply not going to happen. There will be some Republican senators who complain that she's too liberal. We can expect that," said Howard.
Howard says Sotomayor's voting record is similar to Justice David Souter's voting record.