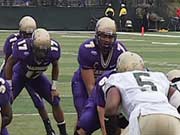 Just days after taking part in the Redskins mini-camp, former JMU defensive lineman J.D. Skolnitsky signed a three-year $1.2 million deal with the Redskins.
Skolnitsky must make the Redskins final roster to get the money.
Skolnitsky's teammate at JMU, quarterback Rodney Landers reportedly impressed the Tampa Bay Buccaneers at a mini-camp this past weekend. The Bucs like his potential on special teams and also the possibility of Landers playing quarterback in the wildcat formation.
Landers is reportedly in contract talks with Tampa Bay.