Albemarle Looking for Search and Rescue Volunteers
Posted:
Updated: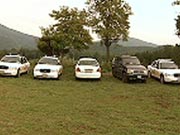 Albemarle County Sheriff Chip Harding wants volunteers to join the county's search and rescue team.
This is the group that contributed more than 700 hours to the search for a Staunton man last year near Free Union. Sheriff Harding says he would like to have even more people on hand, willing to help.
A few months ago, the group helped locate a woman lost in Walnut Creek Park.
Chip Harding stated, "She got off the trail and got lost in the dark and she was able to make one cell phone call out and her phone was dying. We were able to get GPS coordinates and within just a matter of an hour or so we went in two and half miles and we were able to locate her."
Anyone interested in joining the search and rescue team must be over 18 years old and go through a criminal background check. Folks with ATV's and horses are especially welcome. For more information call 434-972-4001.